John has been a professional drummer and educator since the age of eighteen, playing and teaching all styles of music. He has played and studied drums in Europe and America with world renowned drummers and instructors, gaining a wealth of knowledge in all drumming topics and styles of music.
As the drummer of Indie Rock band, 'The Filthy Youth' in 2005-2010, John played sell out shows in both the UK and America, as well as having the bands music featured in a hit New York TV series.
John has also played as a Session Drummer for Pop artists, Jazz and Jazz-Funk Fusion bands, Orchestras, Concert Bands and Theatre Bands.
John is the owner of 'UK Drummers' and 'Drummers Academy of Music', and wrote the syllabus for the Academy, and also teaches the Online Drum Lessons.
Tristan has years of drumming experience, many of which he has been playing and teaching professionally.
After earning a Distinction grade at the 'Nexus School of Music', he went on to play in many different bands of a range of styles, such as Pop, Rock, Indie, Metal, and Jazz. Having performed and recorded all over the country, Tris has a wealth of drumming knowledge, and has also achieved a Trinity College London Grade 8 Drum Kit Distinction.
Tris has studied with top class drummers and learnt personally from the likes of Aaron Spears (Usher, American Idol, Ariana Grande), Donavan Hepburn (Take That), Mark Mondesir (Jeff Beck), and the legendary Dom Famularo.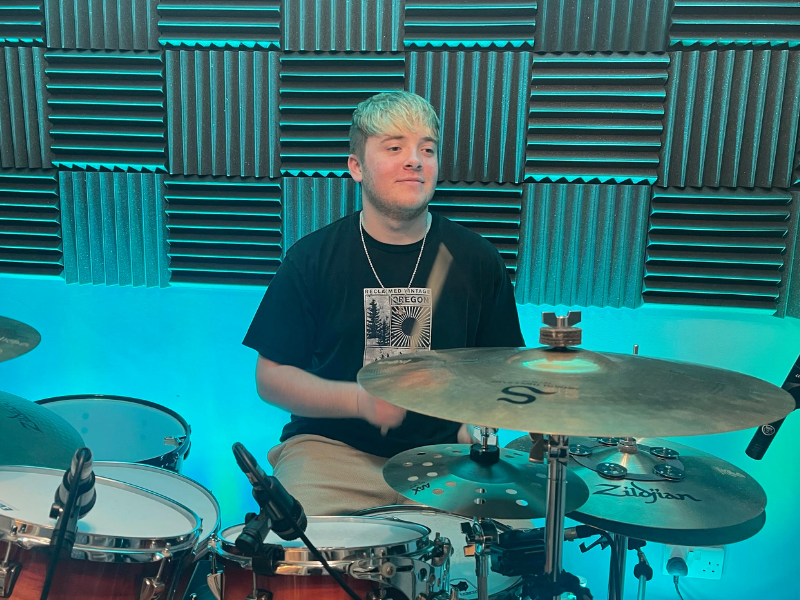 Ross has been drumming from a very young age, and has been a student at Drummers Academy of Music for many years.  He is currently studying Drum Performance at BIMM London (British & Irish Modern Music Institute), where he passed his Diploma with Distinction Star. Now in the final year of his degree, Ross is being taught by top class professionals such as Giuseppe Grondona (Tormentor & Pink) and Femi Temowo (Amy Winehouse, The Roots). Ross has played in a number of bands across a range of genres, including Rock, Pop, Indie, Jazz and World Music. 
Pete has been playing drums for many years, and earned a Higher National Diploma at 'The Institute of Contemporary Music Performance' in London.
He has studied with a range of professional drummers, such as Gabor Dornyei (Thriller Live), Fergus Gerrand (Sting, Take That), and also John Vooght (The Filthy Youth, Drummers Academy of Music), with whom he achieved a Trinity College London Grade 8 Drum Kit Distinction.
From these tutors, Pete has become skilled in a vast array of drumming styles, ranging from Rock, all the way to World Music.
Pete is a multi-instrumentalist, playing bass and guitar – as well as drums – in bands, so has great perceptive and understanding of music from all angles.