DRUMMERS ACADEMY OF MUSIC
Achieve your drumming goals by taking a personalised route through our 9 Level step-by-step syllabus - from complete beginner to advanced - covering all drumming topics, grade pieces, and songs of all genres and eras.
Lessons on all the fundamentals, such as technique, music theory, rudiments, and independence.
Lessons on all styles of music. Cover Rock, Pop, Blues, R&B, Disco, Hip-Hop, Metal, Jazz, Reggae, Drum 'n' Bass, Gospel, Country, Fusion, World, Musical Theatre, and Orchestral.
Learn songs of the past and present to apply everything you've learned, and learn the vocabulary of the drumming greats.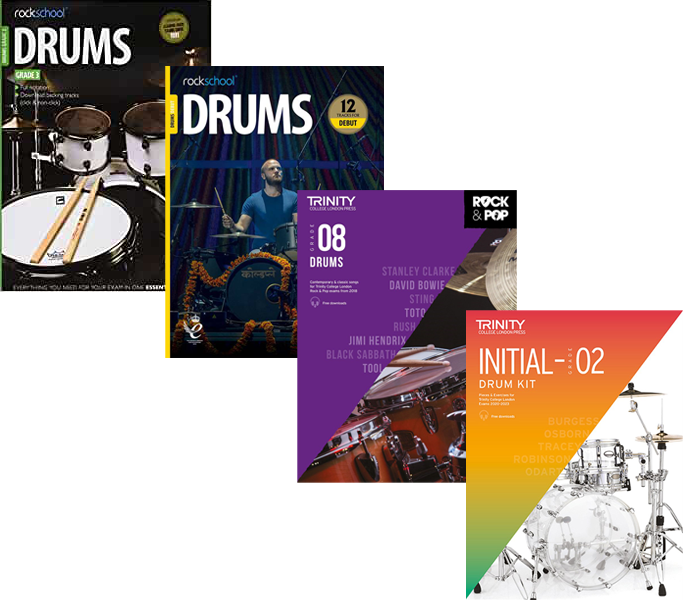 Lessons on all grade pieces from Initial/Debut - Grade 8, from Trinity College London and Rockschool.
Join our Online Drum Academy and get unlimited access to recorded step-by-step video lessons covering our entire syllabus, songs, and grade pieces.
You'll also get access to our weekly live streams for Q&A sessions and Student Reviews.
Learn at your own pace, from anywhere, at any time.
Learn in person at our studios in Letchworth Garden City, Hertfordshire.
All of our teachers have years of playing and teaching experience, coupled with expansive knowledge and expertise; ensuring you receive the best drum education.